Recover Photos On iPhone 15/14/13/12/11/X Pro/ Pro Max/Mini
Losing photos on your iPhone due to accidental deletion can be a frustrating experience. and knowing how to recover it can be even more valuable. Our comprehensive guide offers assistance in both aspects.
Photos store our many precious memory. Maybe your first dating with your boyfriends/girlfriends, or your family photos, your best friends, your school times and so on. Store photos actually a kind of store our important memory. But sometimes it may happen mistake and your Photos in iPhone 15/14/13/12/11/X Pro/ Pro Max/Mini are missing. You want to recover your data. But how?
Here i want to provide you with two thinking:
Directly recover your Photos using iPhone Data Recovery
Go to check your recently deleted or hidden albums, your shared library and iCloud photos.
Simple methodS can solve you all your problems.
Firstly let's recover your data with iPhone Data Recovery. this method don't have any premise. It is a software that can help all iPhone users to recover many kinds of data files. Some people may wonder-I never backup my photos previously then still can using this method to recover my data? Of course you can. iPhone data recovery can recover your data even your data didn't backup before but it still can extracted your data from your iPhone system.
Tip: Transfer data from iPhone to iPhone 15
Recover a range of content, including photos, videos, music, notes, messages, call logs, and more.
Easy to use, 100% Guaranteed data security
This application also can be super efficient and you can choose quick scan mode to recover your data as soon as possible. If you want to recover your data within the most complete then deep scan mode are super suitable for you. iPhone Data Recovery is just a software that can help you a lot.
Part 1: Recover iPhone Photos with iPhone Data Recovery
Download iPhone Data Recovery and open the application.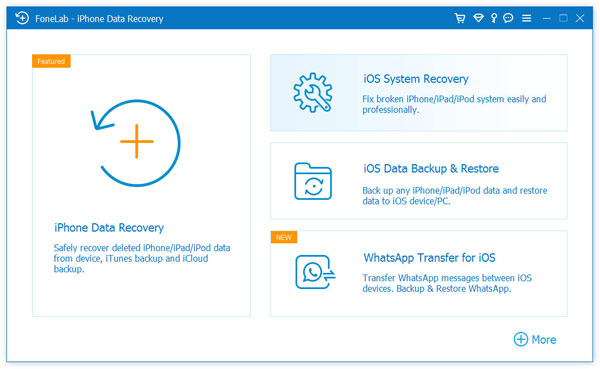 Select "Recover from IOS device" and debug your USB cable. Connect your iPhone 14/13/12/11/X Pro/ Pro Max/Mini with the computer. Connection will enable you to transfer your data between device easily.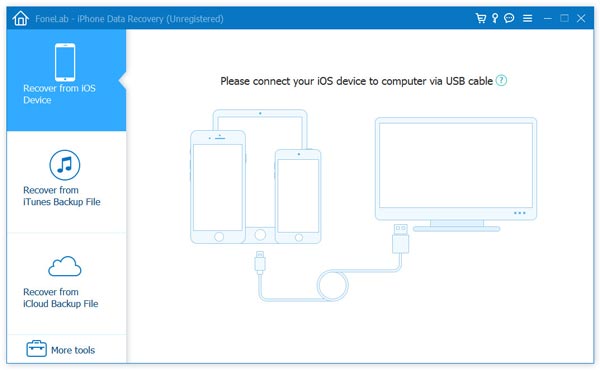 Click "Start Scan" and the system will begin. Try to use the quick scan mode or the deep scan mode. Next go to find your Photos in your scanned result.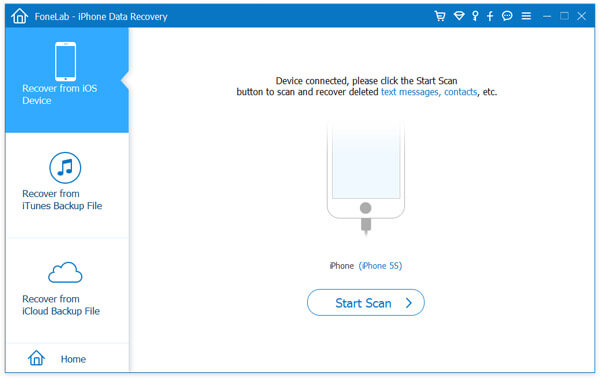 Pls choose your Photos in the list and next tap "Recover" finally.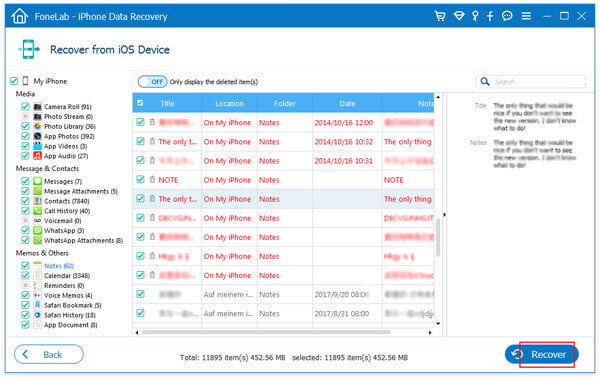 That's all for you to use iPhone Data Recovery software to recover your data. You may found your data store very well after using this software to recover your data.
Part 2: Recover iPhone Photos from Album
But some people may wonder if there still have another kind of way to recover your Photos in your iPhone. The following checking can help you a lot.
Your lost photos may found in your iPhone deeper place but you can not see them directly. If you want to find them back, Pls check your recently deleted album in your iPhone.
Open your iPhone 15/14/13/12/11/X Pro/ Pro Max/Mini. Use Face ID or Touch ID to unlock your recently deleted album if you have.
Tap the photos you want and tap "recover" button. If you want to recover your multiple photos you can tap "select" and next "recover".
Confirm what you want to recover the photos.
Part 3: Recover iPhone Photos via Unhide Your Photos
Another channel to recover lost photos in your iPhone 14/13/12/11/X Pro/ Pro Max/Mini. Go to unhide your photos.
Just think about if you have hide your photos so that you cannot see them directly in your album. But this kind of situation is not missing. If your iPhone device are ios 15 or later then you can choose to hide the hidden album so it will doesn't appear anywhere in the photos app. If you are photos missing you must make sure the hidden album is turned on so you can see it. If you once use iCloud device then your lost photos still save in your other device.
Go to your iPhone 14/13/12/11/X Pro/ Pro Max/Mini app and next go to tab your album button.
Tap Hidden under the other options. Next use Face ID or Touch ID to unlock your hidden album.
Pls select the photos that you want to unhide and next tap on the "Unhide" button.
Part 4: Recover iPhone Photos from iCloud
Some people still wonder what can I do if my photos store in iCloud. That may be more easier if you always using your iCloud to save your photos. Just make sure your iCloud Photos is turned on.
Go to "Setting" in your iPhone 14/13/12/11/X Pro/ Pro Max/Mini and next you tap "Your name". Then "iCloud".
Pls tap "Photos" and next turn on "iCloud" photos. You can try to choose some photos you like to recover into your device.
Part 5: Recover iPhone Photos from iCloud Shared Library
In some iPhone users, they may start or join an iCloud Shared Photo Library with up to five contacts. Therefore if you join a shared library then your lost photos might appear there even if the same photo doesn't appear in your personal library. Just go to check your iCloud shared library.
Open photos app and next pls click on "person" icon.
Select the library you want to see such as Personal library, shared library or both libraries.
After your preview then you may find your lost photos back.
Part 6: Recover iPhone Photos from Apple ID
Finally, for your photos have been lost in your iPhone device then you can make sure that you can sign into your iCloud with the same Apple ID on every device. If you do this you may found your lost photos still have ways stayed in your device even though you cannot see them in your device directly.
Check your Apple ID on iPhone 14/13/12/11/X Pro/ Pro Max/Mini. Click "Setting".
You'll see your name and email address after doing this (Your email address is your Apple ID) If it is the same them your lost photos can also found in iCloud Drive.
Summary
You may find many problems in the ways of recover your lost photos in your iPhone device. But pls remember there is always have the great method and many channels for you to choose. iPhone Data Recover is a good method. The same as the many channel talk about in this article you can have a good choice and never give up.