Android Data Recovery Tool
This top-rated Android Data Recovery software is compatible with a range of operating systems, making it reliable for recovering deleted files from Android devices such as phones, SD cards, and tablets.
Provides fast and thorough recovery of various file types.
Safely extract data from a damaged Android device.
Offers preventive measures to backup Android data.
30-Day Money Back Guarantee.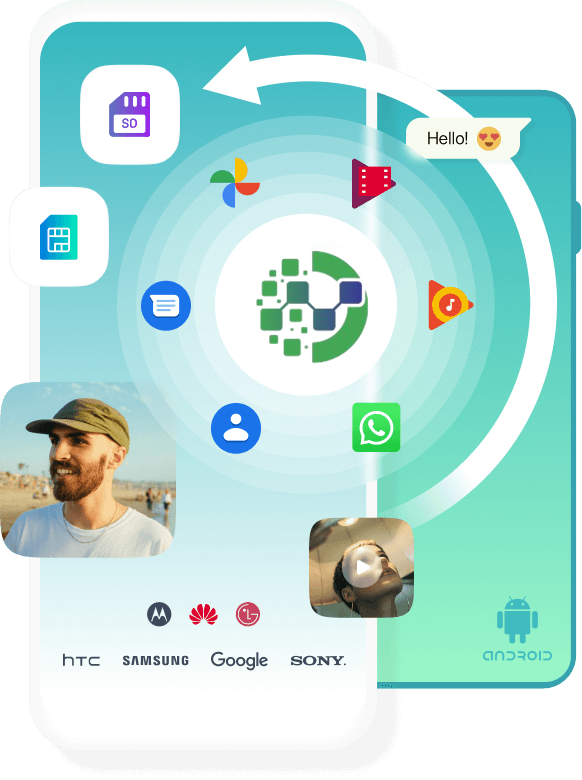 Safe And Easy

Retrieve erased text messages, contact information, call history, and files from an Android device or SD card.

Recover missing photos, music, videos, and WhatsApp files from Android smartphones and tablets.

Recover erased information from various brands of smartphones such as Samsung, HTC, LG, Huawei, Sony, Sharp, and more.

Permanently preserve deleted or current Android data by backing it up to a computer.
3 Practical Functions

- Mode 1 -
Android Data Recovery
Safely recover deleted data from Android Phone And Tablet.

- Mode 2 -
Broken Android Data Extraction
Professionally fix and extract files from broken/frozen android phone.

- Mode 3 -
Android Data Backup&Restore
Seclectively flexibly backup and restore android data.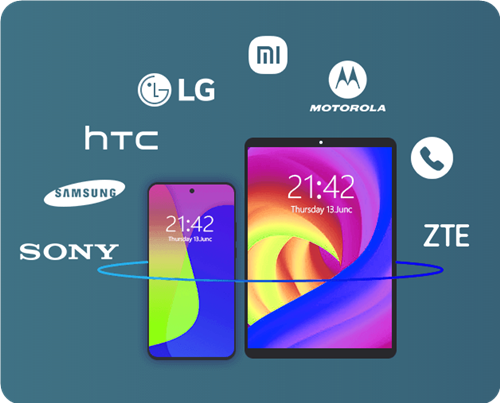 Recover Data on Various Android Phone
This software for Android data recovery can be used on any Android smartphone or tablet, regardless of the make or model. It is compatible with a wide range of Android devices including Samsung, HTC, LG, Vivo, Oppo, Huawei, Oneplus, Motorola, Sony, Google, ZTE, Xiaomi and many others.
Recover Contacts
Messages/Photos
Videos/Call logs
Whatsapp/Audio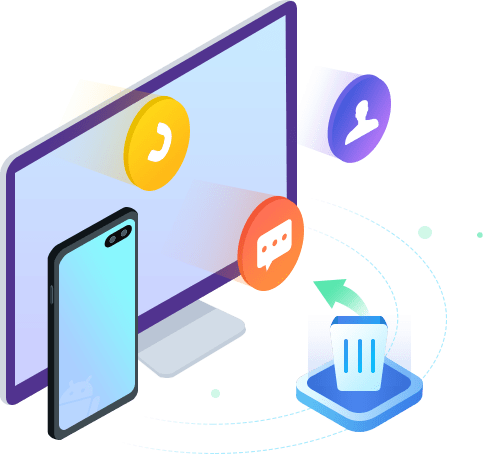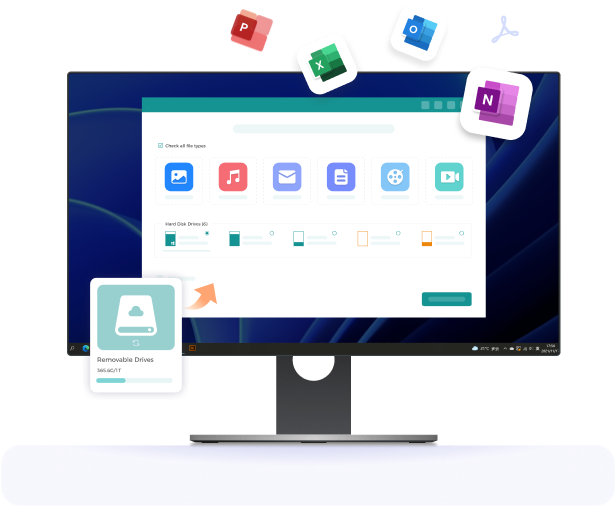 Recover All Kinds
of Documents
A mobile phone can serve as a substitute for a USB flash drive when it comes to data storage. Android Data Recovery is a powerful tool that can recover lost documents from your Android phone, regardless of whether they are text files or Word content.
Recoverable Scenarios
Numerous unforeseen circumstances can lead to data loss on Android devices, including but not limited to operating system updates, rooting, device malfunction, lockouts, forgotten passwords, and ROM flashing. Nonetheless, this proficient Android data recovery software can assist you in effortlessly and securely recovering your lost or deleted SMS, contacts, photos, videos, and more.

Improper Handling

Accidental Deletion

OS/Rooting Error

Device Failure/Stuck

Virus Attack


System Crash

Forgotten Password

SD Card Issue
Recover Data From

Internal Memory
Perform a scan of your Android device to directly recover any deleted or lost data.

SD Card
Conduct a memory card scan on your Android device to retrieve deleted files.

SIM Card
Retrieve data from a SIM card (Subscriber Identity Module).
Supported Brands
With Android data recovery, recovering lost data from over 6000+ Android phones and tablets is a breeze, regardless of how your data (including contacts, messages, photos, videos, audio, call logs, Whatsapp, and documents) was lost.











Step 1: Please download and install the program on your computer, and select the Android data recovery option.



Step 2: Connect your Android phone to your computer using a USB cable. On your phone screen, allow file transfer. The program will then scan your data.



Step 3: Once the scanning is complete, you will be able to preview your data on the program interface. From there, you can select the desired files and recover your data. Please note that Contacts, Messages, Photos, Videos, Audio, Call Logs, Whatsapp, and Documents are all included.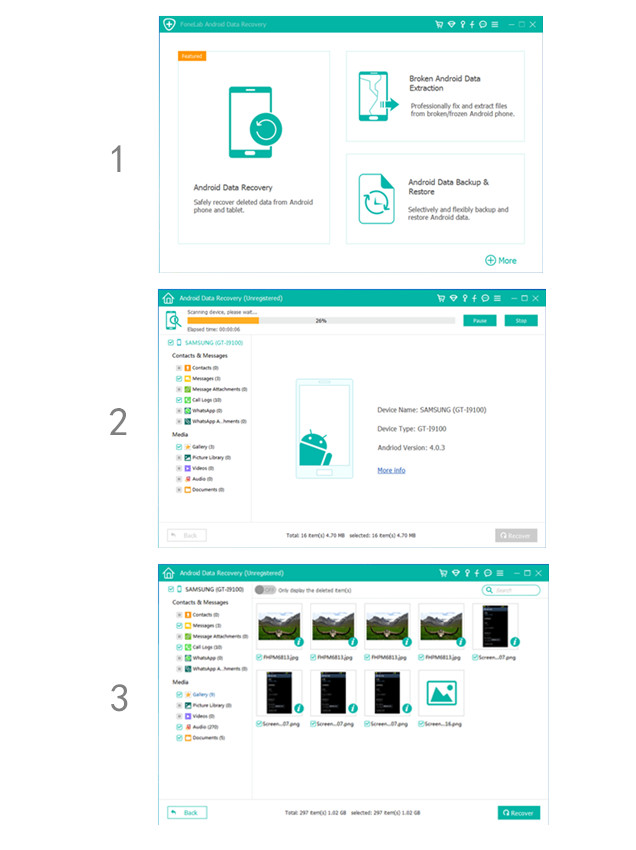 Reviews
A few days ago, I purchased Android Data Recovery to recover some of my deleted pictures and I'm pleased to say that it worked well.
- Davidsen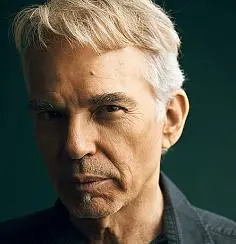 Thanks to this Android data recovery tool, I was able to retrieve all my lost contacts! It really saved me in a difficult situation - my Samsung phone dropped into water and all my contacts disappeared. This free software did a great job and helped me to recover all my contacts.
- Heiling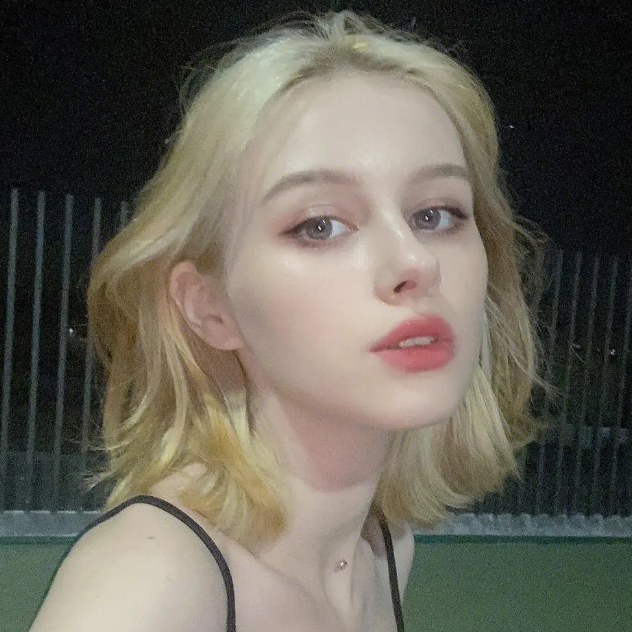 This program successfully helped me to recover my photos and messages. However, it's important to note that it's not guaranteed to recover everything 100% of the time. Therefore, I recommend reading some tutorials from the website before deciding to purchase the software.
- Kimmy