iOS Whatsapp Transfer Tool
Easily transfer your WhatsApp data directly between iOS devices.
Move your WhatsApp data between your iPhone and computer effortlessly.
Preview your data before transferring.
Whether it's WhatsApp chats or attachments, you can transfer it all.
You can export WhatsApp conversations in HTML or CSV formats.
Works seamlessly on both Windows and Mac systems.
Supports all iPhone devices and iOS versions, including the latest iPhone 15 and iOS 16, as well as earlier versions.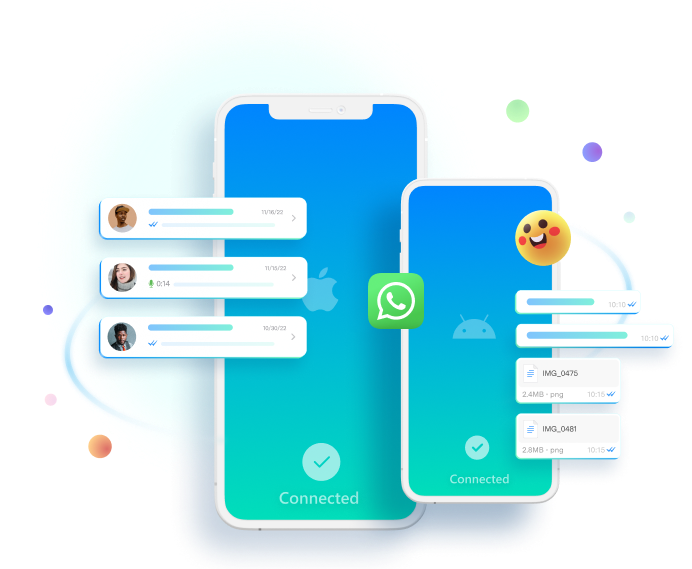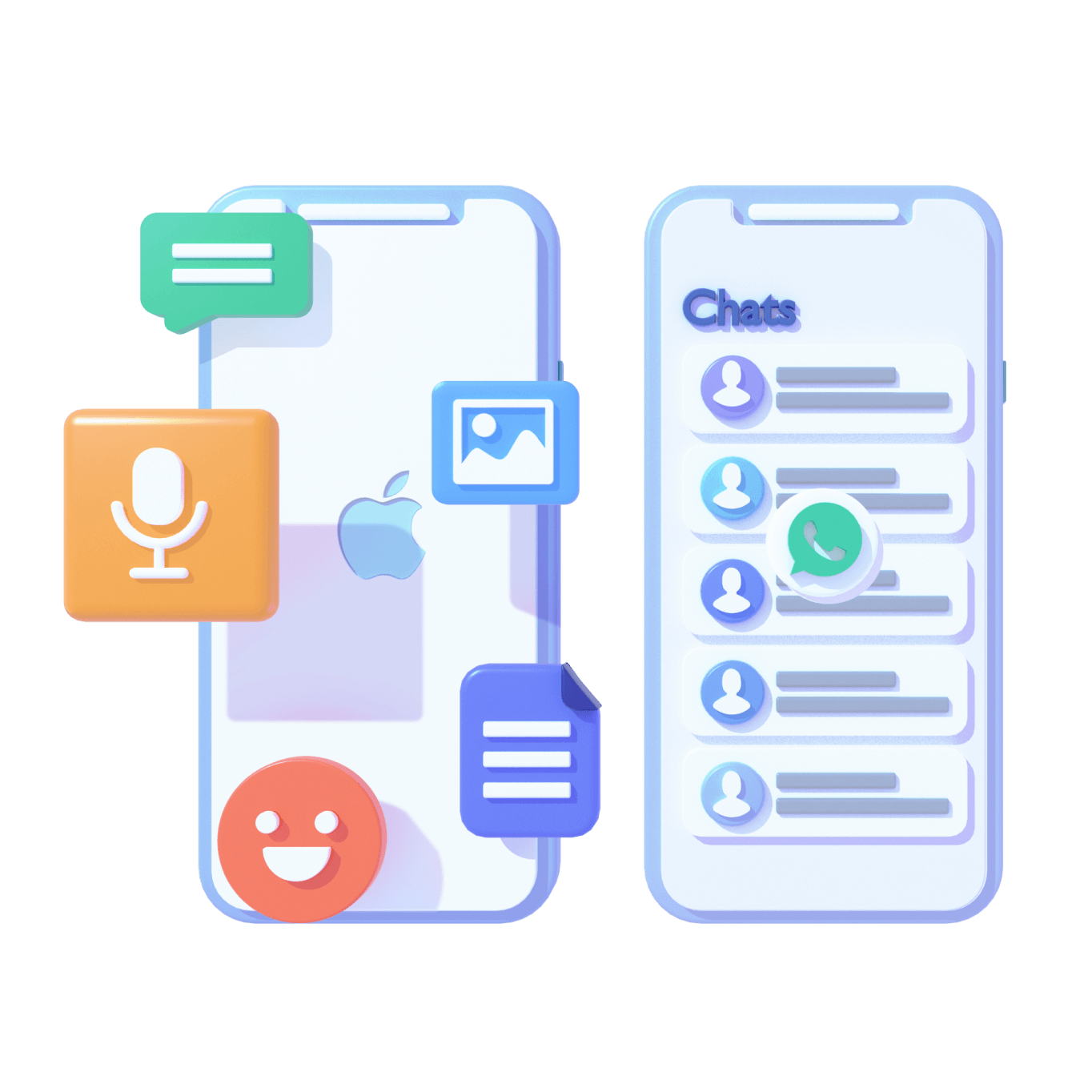 Transfer WhatsApp between iOS devices.
If you've recently acquired a new iPhone and wish to transfer your old WhatsApp chats to it, WhatsApp Transfer for iOS is your best bet. This software facilitates seamless transfer of WhatsApp data between iOS devices such as iPhone 15, iPhone 14, iPhone 13, 12, 11, XS, XR, and 8. With just one click, you can transfer all your WhatsApp data, including chat messages, photos, videos, audio, and contacts from your old iPhone to the new one.
Backup & Restore WhatsApp Effortlessly
Compared to WhatsApp's official backup solution, WhatsApp Transfer for iOS software offers superior features. This software allows you to keep each iPhone backup file separately on your computer without any risk of overwriting. Your WhatsApp data is securely stored using encrypted backup support. Additionally, when restoring the backup to your iPhone or computer, you have the option to selectively view and restore either specific or entire WhatsApp backups. This makes WhatsApp Transfer for iOS software an ideal choice for managing your WhatsApp data backup needs.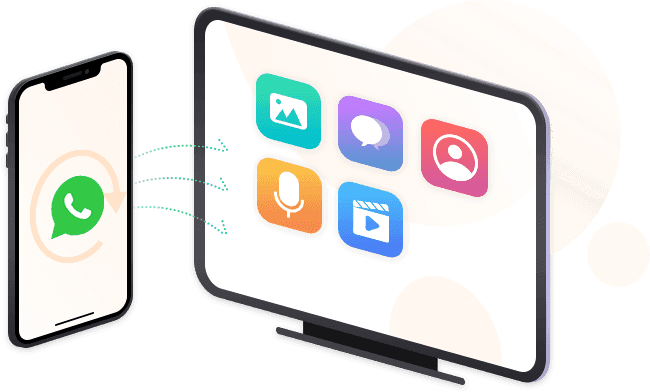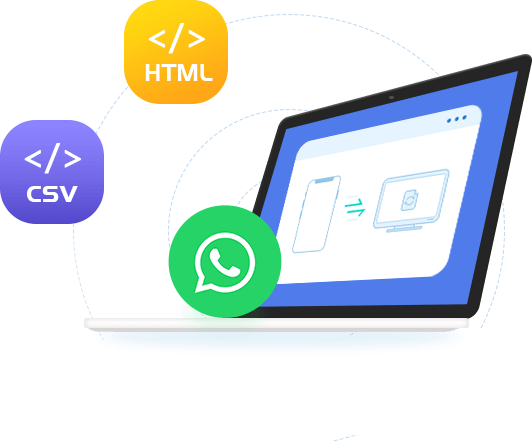 Export WhatsApp Chats flexibility
With WhatsApp Transfer for iOS, you can easily meet all your WhatsApp chat export requirements. This program offers the flexibility to export either individual or all WhatsApp chats in HTML format, allowing you to easily read through conversations between multiple friends. Additionally, you can export WhatsApp messages as CSV files, which can be viewed as log files. No matter which export format you choose, WhatsApp Transfer for iOS is always the optimal solution.
Explore More Highlights

Keep Every Backup
Each WhatsApp backup file is stored individually to ensure that previous and current backup files are both saved without overwriting.

Preview Backup File
Superior to WhatsApp as it allows you to preview backup data before restoring it, confirm the data before the restoration process.

Restore Selected or All
Allows for flexible selection of specific or all items for restoration, in contrast to the official method's forced restoration of the entire WhatsApp backup.

100% Safe
With local storage on your computer, rather than in the cloud, this software provides added security by eliminating the risk of data breaches.
Easy Steps To Works
Step 1. Select mode

To perform a device-to-device transfer, first click on the "Device-to-device Transfer" option located on the left-hand side of the screen. Next, connect both devices to your computer using USB cables.



Step 2. Connect iOS devices to PC

To initiate the transfer, press "Start Transfer" and then select "Trust" on your device to authorize the connection between both devices.



Step 3. Transfer/backup WhatsApp from between 2 devices

It is possible to transfer WhatsApp messages and attachments between iPhones.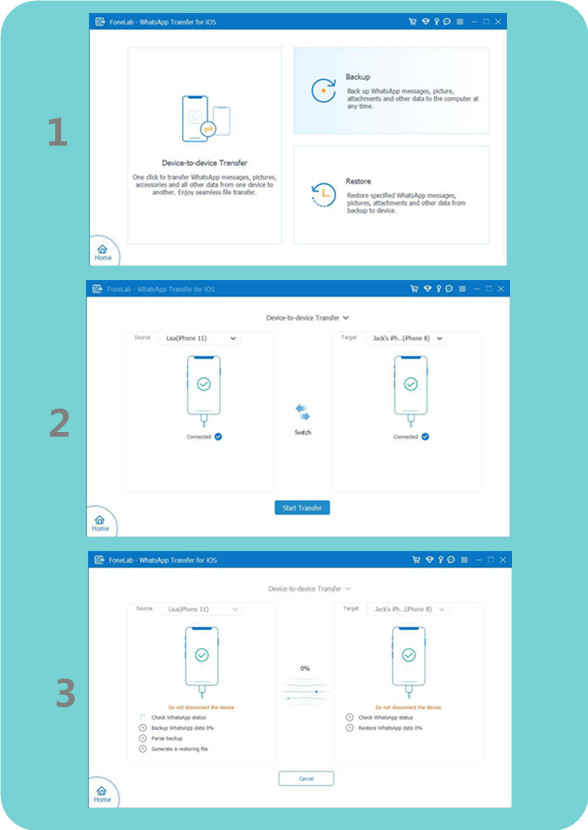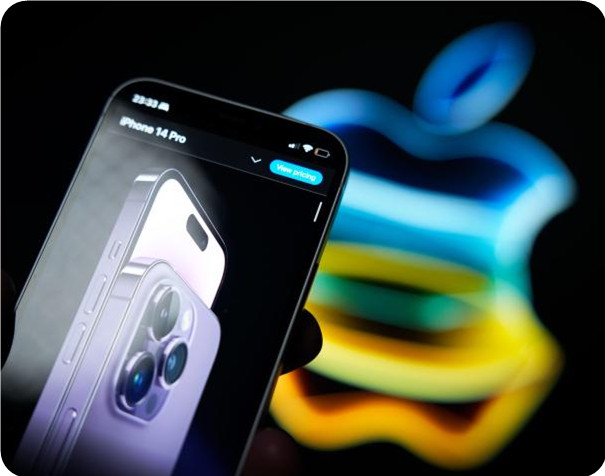 Supported Devices
(iPhone) iPhone 15/15 Pro/15 Pro Max, iPhone 14/14 Pro/ 14 Pro Max, iPhone 13 Pro Max/13 Pro/13 mini/13, iPhone 12 Pro Max/12 Pro/12 mini/12, iPhone 11 Pro Max/11 Pro/11, iPhone XS, iPhone XS Max, iPhone XR, iPhone X, iPhone 8 Plus, iPhone 8, iPhone 7 Plus, iPhone 7, iPhone SE, iPhone 6s Plus, iPhone 6s, iPhone 6 Plus, iPhone 6, iPhone 5s, iPhone 5c, iPhone 5, iPhone 4S, iPhone 4
Advantage

A high rate of success

User-friendly Interface

Ordering Online is 100% Secure

All privacy information protected